2018 NLPA Presidential Welcome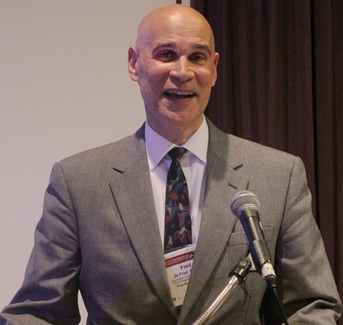 Welcome to the National Latina/o Psychological Association!
I am honored and humbled to serve as president for 2018. Our mission at NLPA is "to create a supportive professional community that advances psychological education and training, science, practice, and organizational change to enhance the health, mental health, and well-being" of Latinx populations. We are a thriving, growing organization that is building on the committed efforts of its membership. It is an exciting time, as we recently (to name just a few):
developed and approved our own ethical guidelines;
established an active policy/advocacy function;
expanded to an annual Conferencia format, so our members can meet, network and share their work more regularly, and;
had our Journal of Latina/o Psychology accepted to Clarivate Analytics' Social Sciences Citation Index and will receive its first impact factor this summer.
These efforts are particularly relevant in the current hostile political and social climate where many issues of import to Latinx communities are being negatively impacted. We are a diverse and dedicated group of educators, researchers, consultants, clinicians and students who labor together to advocate to improve the Latinx condition. We strive to give a voice, through our teaching, practice, research and advocacy to the needs of our often ignored Latinx community.
Consistent with these efforts, our 2018 NLPA Conferencia theme is Navigating the mosaic of Latinx culture: Advocating for growth, intersectionality and resilience. It will be held in San Diego, CA from October 18-21, 2018 at the Hyatt Regency La Jolla. Please consider submitting a proposal and sharing your work with our familia. We pride ourselves on establishing a warm, collegial environment to share diverse ideas and support each other's work. For more information about our Conferencia, including hotel, airline and program, please visit http://www.nlpaconference.org/.
Please consider joining us in our efforts! There are many varied ways to contribute and participate. Membership benefits include the Journal of Latina/o Psychology, discounted Conferencia rates, our bulletin Latina/o Psychology Today, access to professional development and advocacy opportunities and listserv participation. For a complete list of benefits go to http://www.nlpa.ws/membership.
I welcome you to the NLPA familia and look forward to your involvement. Together we can make positive change in our community. Juntos podemos!

Fred Millán, PhD., ABPP, NCC
2018 President
president@nlpa.ws